Canvas images are printed on the finest canvases and are sealed to the canvas with UV protecting varnish to establish a waterproof and permanent image. Canvas images can be supplied finished to the face or with the image around the canvas edges.
All canvas images are supplied ready to hang straight on the wall and supplied with picture hooks for hanging.
All of our canvases are hand made individually to order, we use a unique sprung stretching system to ensure that your canvas will not sag over time, the stretchers expand and contract along with the canvas material to ensure an even tension so the age old problem about hanging over a heat source has been eliminated, our canvases will not sag.
Before confirming your order please use the image uploader to send your photograph to us for printing. There is a link on each product to be able to do this. We will confirm your order received and advise upon completion for dispatch or collection.
Canvas prints can be made from any digital file, negative, print or painting.
Canvas prints are despatched in the post by Royal Mail encased in Polystyrene and bubble wrap for safe transport and can be sent to any where in the country or over Europe. Please select the canvas postage option on confirmation of your order.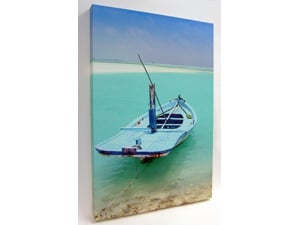 Canvas wrapped prints can be supplied in a variety of sizes and made to any panoramic shape you choose from the size scale in the price chart. All of our canvases are sealed in a UV protectant varnish to prevent fading and inadvertant damage. You can choose to have your canvas image wrapped or face finished with any colour edging you desire.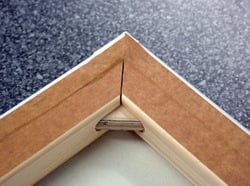 All of our regular size canvases are wrapped onto a quality wood frame with a unique sprung style corner to keep the canvas at the optimum tension, even if the ambient room temperature changes the canvas frame will expand and contract to keep the canvas tight.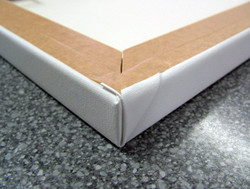 We finish our corners off with a neat hospital bedstyle corner wrap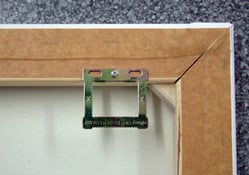 All of our canvases are fitted with hanging plates to keep your canvas flush to the wall when hanging, also the canvas cannot skew when hanging as it would if hung with string.
To order your favourite image into a wonderful canvas piece of wall art, select the size of canvas you require from the options above and send your image using the image download link contained within the product description. We will confirm receipt of your order and keep you informed at each step through to despatch of your order.