ABOUT SNAPS PHOTO SERVICES LTD
SNAPS PHOTO SERVICES LTD has been processing photographic material since 1987 when company director Jonathan Roberts, at the age of 24
years, parted company from the one and only firm he had worked with since leaving school.
The quality grounding from the nine years experience working for whom he has considered 'one of the finest photographers his home town of Bournemouth has seen' has meant that throughout the years of the evolving photographic industry the quality of working standards and customer services has been maintained,
Having won a quality standard award from FujiFilm has upheld the company policy that we all try to maintain giving our customers the best quality of work that we can produce.
We are now a certified Canson Paper fine art print lab and carry the certifiaction emblem with pride.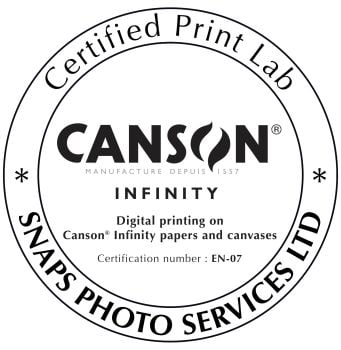 We process all types of traditional and digital photographic films and images and where other labs have turned away from film processing our commitment to film is as strong now as it has always been with black and white and slide film processing still prominent within our services.
Our processing machines and chemical processes are quality monitored to ensure we supply the highest quality services that we can and our state of the art equipment is maintained so that the optimum performances produce the highest quality images.
We are a family business with a wide appeal, accepting work from the most basic hobby photographer to the most sophisticated and demanding professionals processing and shipping work not just throughout the UK but all over the world.
For over 34 years now we have established a very strong customer base of clients from every continent. Our commitment is to our customers and we try to go our of our way to treat each and every customer with the same attention that each deserves.
In the days of the social media revolution it is often all too easy to go straight on the web and voice an opinion whether informed or not, whether correct or not, but in our case we prefer to deal with our customers fairly and equally, we dont always get it right but with our experience in this industry most things can be sorted with a friendly conversation and explanation.
We hope that you find the informaition on this site usefull and for clarification on any of our services please do not hesitate to call or email, we are always available to help.
Opening hours are
MONDAY 9.30A.M to 5.30P.M.
TUESDAY 9.30A.M to 5.30P.M.
WEDNESDAY 9.30A.M. - 1P.M. CLOSED P.M.
THURSDAY 9.30A.M. to 5.30P.M.
FRIDAY 9.30A.M. to 5P.M.
SATURDAY 9A.M. - 1P.M. CLOSED P.M.
SUNDAY CLOSED.
Need an order form? click here to download a copy.